100 Man Slayer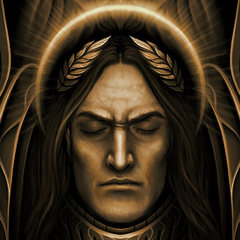 Fan art of one of my all time favourite things: Berserk - PLEASE ZOOM FOR DETAILS
I've wanted to do fan art of Berserk for many years but just never committed to it, until recently watching the newly made series that's aired. Which for the record I think is great and sure it's not like it once was. but would you rather this or nothing at all? So stop bitching.
What I feel about this work is very bitter sweet, yes it's one of my bigger works and it's something I've poured about a week or so into, yet despite all the work, effort and time I've put into this and despite the fact it's from something I love I hate it. I feel it's not turned out quite how I like. More so, it could be that this was started in rough times and times have gotten rougher still and it came to a point now where I just wanted to get it finished and was growing frustrated. Which we all know it's great when it comes to this kinda thing.
So, shame really, I mean it isn't bad and could be worse but still.. it is what it is.
Taken from the time Guts creates a diversion and single handedly slays 100+ men, during a time period in the anime/manga I adored. 
Advertisement

The owner of artfreaks.com has an affiliate sales relationship with Amazon.com
Verified sales resulting from clicks on Amazon.com product links placed by any of the site administrators will generate a small commission for the site-owner, which will help towards financing this free website for artists and photographers.