Crimson Fists: Alessio Cortez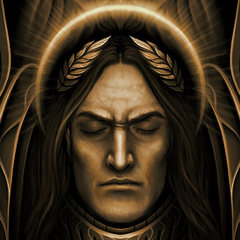 "Alessio Cortez was a Captain of the Crimson Fists. He was known to instill a sense of stubborn pride in his men and to carry on fighting no matter what, ignoring wounds that would even stop a Space Marine."

This is a conversion of a Space Marine Sternguard to create the hero of the 4th company, Cortez who amongst the Crimson Fists, is legend. His wargear isn't 100% accurate, however I did make this model many years ago.
From the album:
139 images
1 comment
31 image comments
---
Photo Information for Crimson Fists: Alessio Cortez
Advertisement

The owner of artfreaks.com has an affiliate sales relationship with Amazon.com
Verified sales resulting from clicks on Amazon.com product links placed by any of the site administrators will generate a small commission for the site-owner, which will help towards financing this free website for artists and photographers.