Alpha Legion Warband Leader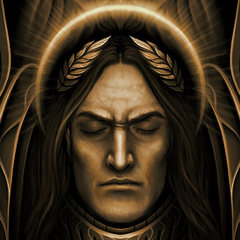 Leader of a small 3 astartes infiltration team with mortal support. my first delve into "True Scale" conversions, made from Terminator legs, Primaris bodies, Mk 3 arms and power packs with plenty of greenstuff. All done for an interesting project a friend has going over on Instagram. There's a whole back story as to why marines still using Heresy era gear are now in the 41st millennium and possible Loyal Alpha Legion!?
Ask for details if interested.
From the album:
139 images
1 comment
31 image comments
---
Photo Information for Alpha Legion Warband Leader
Advertisement

The owner of artfreaks.com has an affiliate sales relationship with Amazon.com
Verified sales resulting from clicks on Amazon.com product links placed by any of the site administrators will generate a small commission for the site-owner, which will help towards financing this free website for artists and photographers.