Alpha Legion Warband Sniper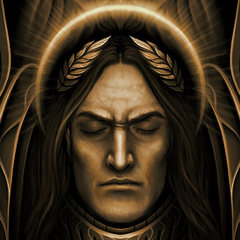 Recon and long range specialist, equipped with a modified Stalker pattern Phobos Bolter with built in elongated barrel and silencer [As silent as I guess you can make such a weapon] and custom rounds for all situations. I originally wanted this character to be draped in a big camo cloak however doing so would have obscured a lot of the details I put into the model, so I settled for having it draped and slightly catching the wind.
This cloak is actually made of tissue paper, as I wanted something thin but that would give the texture if rough fabric. Inspiration for this came from: http://www.bolterandchainsword.com/ to… check it out! It's a rad tutorial and props to the gent who shared this.
Lemme know what you think.
From the album:
139 images
1 comment
31 image comments
---
Photo Information for Alpha Legion Warband Sniper
Advertisement

The owner of artfreaks.com has an affiliate sales relationship with Amazon.com
Verified sales resulting from clicks on Amazon.com product links placed by any of the site administrators will generate a small commission for the site-owner, which will help towards financing this free website for artists and photographers.