Rando Souls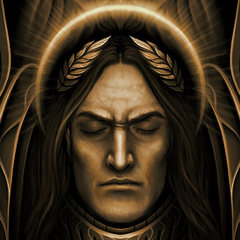 "Upon deciding his fate and choosing to let the last flame become an ember then ash, Rando let the lands become swallowed in darkness, breaking the cycle. However, now a ruler of a dead land slowly Rando's mind degraded over the many empty centuries and he became as hollow as all the souls he had consumed to reach his lofty, but now cursed existence. Whispers say that he wandered back to a particular, in the undead berg, where he now resides in it's shaded depths, like a tribute to it's former occupant..."
Copyright
© Rando/Randowis belongs to Randowis
---
From the album:
122 images
0 comments
49 image comments
---
Photo Information for Rando Souls
Advertisement

The owner of artfreaks.com has an affiliate sales relationship with Amazon.com
Verified sales resulting from clicks on Amazon.com product links placed by any of the site administrators will generate a small commission for the site-owner, which will help towards financing this free website for artists and photographers.